Royal Caribbean is offering its broadest range ever of itineraries in Australia and New Zealand come summer 2013-2014.  For the second consecutive cruise season, Voyager Of The Seas, Radiance Of The Seas And Rhapsody Of The Seas will offer cruises to the region.
Voyager of the Seas will offer 53 distinctive itineraries along with the recently revitalized Radiance of the Seas and Rhapsody of the Seas.  In total, Royal Caribbean will offer 55 cruises at 56 Australian, New Zealand and South Pacific ports, with departures from September 2013 to April 2014.
Royal Caribbean commercial manager for Australia, Adam Armstrong, commented on the news, "It's with great pleasure that we can confirm that sister ships, Voyager of the Seas, Radiance of the Seas and Rhapsody of the Seas, will be back to wow Australian cruisers in summer 2013-14. For the next two summer cruise seasons, Royal Caribbean International will be the largest cruise line operating out of Sydney, and these newly revitalised "premierships" will offer the very latest in cruising – experiences guests previously had to travel to other parts of the world to have."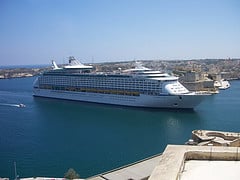 "We've added more cruises on Australia's first megaliner Voyager of the Seas and some new itineraries across the entire fleet to ensure that there are even more options to suit different lifestyles and needs. It's our widest ever range of cruises Down Under."
Voyager of the Seas will reposition from Singapore to Sydney on a 14-night cruise in late October 2013 that begins with an overnight in Singapore and calls at Port Keland for Kuala Lumpur, Malaysia, and Darwin and Brisbane, Australia. The ship then homeports at Sydney for nine sailings to New Zealand, Fiji and New Caledonia. These cruises range from nine to 14 nights.
A nine-night Tasmania cruise in early February 2014 features an overnight at Hobart on a one-time-only itinerary. At the end of the season, Voyager of the Seas will sail an 18-night Australia and New Zealand itinerary to Perth before returning to the Far East on a 14-night sailing in late March to Singapore via Bangkok.
Radiance of the Seas and Rhapsody of the Seas also homeport at Sydney from October 2013 to early May 2014, and will operate a wide variety of itineraries ranging from seven to 15 nights.
The cruises visit Australia's Tasmania and Queensland, New Zealand, Fiji and New Caledonia. Radiance of the Seas will circumnavigate Australia twice with a 16-night north coast and a 17-night south coast and New Zealand itinerary.
Pacific crossings between Vancouver, BC and Sydney bookend both ships' Australia season. These are a 12-night Hawaii and a 16- or 17-night South Pacific sailing, departing Sept. 13, 2013 and April 10, 2014 aboard Radiance of the Seas, and Sept. 6, 2013 and April 18, 2014 aboard Rhapsody of the Seas.